Meet the women dominating London's art scene
Don't miss the incredible work of pioneering and inspiring women artists that can be found across London this summer.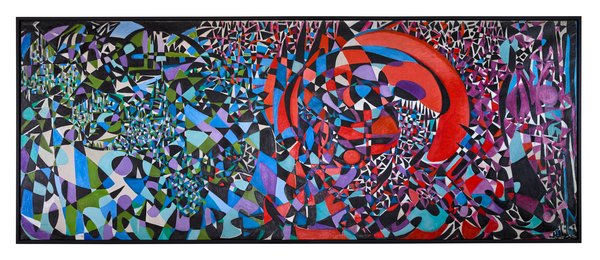 It is no secret that London is one of the art capitals of the world. Home to a number of incredible contemporary artists, it also boasts some of the most popular and prestigious art institutions. When there are so many fantastic galleries and museums around you know that there is always something to see. But if you want to go that one step further and fill your cultural summer excursions with inspiring, creative, and innovative female artists then these are the places you should be heading to:
Fahrelnissa Zeid
Tate Modern (until 8 October)
The Turkish artist – an early pioneer of abstract art in the country – was also one of its first Modern female painters. Born to an elite Ottoman family and trained in both Paris and Istanbul she became an important figure in the Turkish avant-garde d Group in the early 1940s. Her impressive large-scale kaleidoscopic paintings are inspired by Islamic, Byzantine, Arab, and Persian art and design. Zeid was a prominent international artist for more than four decades, but this will be her first major retrospective.
Emma Hart: Mamma Mia! (Max Mara Art Prize for Women)
Whitechapel Gallery (until 3 September)
London-based artist Emma Hart presents a new large-scale installation at the gallery for the sixth edition of the art prize. The biannual art award is the only visual art prize for women in the UK and aims to promote female artists. Hart's work is centred on video, sculpture and performance, and this latest piece is a vibrant multimedia exploration of design and pattern and psychological responses they can stimulate. The commission is the product of the artist's 6 month residency divided between three Italian cities: Milan, Todi, and Faenza.
Breathing Colour by Hella Jongerius
Design Museum (until 24 September)
Blurring the distinctions between art and design, this exhibition invites the viewer to challenge their preconceptions about colour. Divided into three spaces that simulate the conditions of different times of day (morning, noon, and evening) the exhibition considers how these three distinct phases impact our experience of colour. Featuring everything from three dimensional sculpture to textiles, designer Hella Jongerius – born in the Netherlands – brings her fascination with traditional craft and contemporary technology to London.
Dreamers Awake
White Cube, Bermondsey (until 17 September)
Featuring everything from sculpture to photography, the work of more than 50 women reveal their significant creative and aesthetic influence in and on Surrealism. Women featured heavily in early Surrealist works; sometimes fetishized, sometimes distorted and monstrous. Spanning more than 70 years of work, this exhibition reveals how women have engaged with and experimented with the movement – from pioneers like Leonora Carrington and Lee Miller, to emerging talents including Jordan Kasey and Caitlin Keogh.
Words: Gurnesha Bola
Twitter: @gurnesha
The UK's first Career & Lifestyle Magazine for women in the Creative and Media industries.