Kendrick Lamar has officially conquered the music video
The artist has a long and celebrated history of ambitious and beautifully executed music videos, but it is Kendrick's work with tracks from new album DAMN. that will go down in history.
On the 14 April Kendrick Lamar dropped his fourth album, and once again the world was stunned into a collective awe-inspired silence. DAMN. was a leave-your-jaws-on-the-floor album that reinforced Lamar's status as a rapper at the top of his game. As if the music wasn't enough he has since gone on to release three of the best music videos of the year – visuals that are already worthy of being called iconic – and the internet has still not recovered.
Here is our summary and review of Kendrick's recent visual offerings.
HUMBLE. (directed by Dave Meyers and The Little Homies aka Kendrick Lamar and Dave Free)
Ambitious, cinematic, and inventive, it is a masterclass in irony. Meyers has worked with everyone from Missy Elliot to Rihanna and knows his way around a camera but this was more than just visual brilliance. This was the perfect aesthetic accompaniment to a track from one of the most nuanced and considered explorations of self and black identity to be found in a contemporary hip hop album. It featured everything from the hyper-glamourised and sexualised images of rap and women of colour, to decadent religious iconography. It is a space populated exclusively by black men and women – front and centre, a community that will not be relegated to the fringes.
DNA. (directed by Nabil and The Little Homies)
How do you top that? Get Don Cheadle involved. Lamar and Cheadle go toe to toe, bar for bar, in an intense exchange that references everything from the difficult race relations in America, to the rapper's own internal demons. The video takes a surprising turn for the personal and poignant, with brief flashes of Lamar in a coffin, battling the paparazzi, and proudly (but subtly) acknowledging his own success. This is a statement however; Lamar is proud of the 'warrior' in his DNA. He embraces his strength, he will not let hip hop culture be criminalised, and Lamar's alter-ego Kung Fu Kenny stakes his claim as one of the new legion of artists who have come to conquer. A glimpse of violence at the end, in which ScHoolboy Q walks towards the camera, poised for confrontation, provides a taster of what is to come.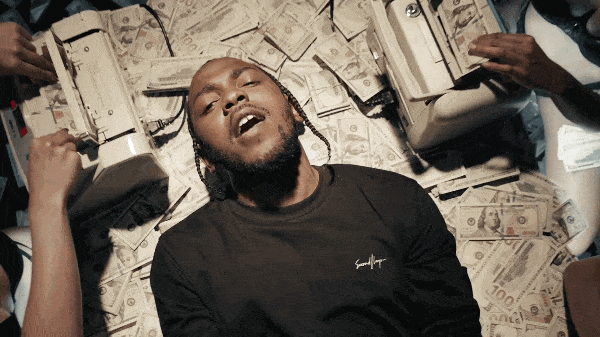 ELEMENT. (directed by Jonas Lindstroem and The Little Homies)
And so we come to the final instalment of the trilogy (so far). Inspired by the pioneering photojournalism of Gordon Parks (a key figure in the development of 'blaxploitation' films) the video even features shot for shot reincarnations of some of his most striking images. If the videos before are the build up to the release, then ELEMENT. absolutely delivers in its brutal but complex depiction of violence. There is blood, fire, and fist-fights in lingering slo-mo; tempered by lyrical, visually-arresting moments of peace. Lamar is in his element. Lamar is home. And if there is going to be a fight he has come to win. The rapper raises his own fists and sheds his own blood in a powerful ode to all those to refuse to go down without a fight.
Words: Gurnesha Bola
Twitter: @gurnesha
The UK's first Career & Lifestyle Magazine for women in the Creative and Media industries.