Everything you need to know about the rise and fall of 'Vegan YouTube'
Ask me what I'd be doing a year ago at dinner time and I could safely reply that I'd be chewing over whatever drama was going off in the Vegan YouTube community while tucking into some rice and veggies. Far from the idyllic scenes painted in Simon Amstell's recent 'mockumentary' Carnage where, years into the future, veganism has gone mainstream, the 2016 online world of catfights and the Thai Fruit Festival was a far more melodramatic reality.
We all probably remember the blonde Australian Essena O'Neill's dramatic breakdown in 2015. The Instagram star who was famous for her healthy food and pretty bikini pictures filmed herself in tears caused by the stress and pressure of her "fake" career. Quitting social media altogether, she brought attention to the fact that 'health blogging' might not be all that it seems.
For those in the know, the Vegan YouTube community mostly centered on eating 'high-carb, low-fat' food, exercising for several hours a day, and consuming lots of fruit. Bonnyrebecca, Stella Rae, Nina and Randa Nelson, and Michelle Muench of Banana Blondie108 were just a few of the super-hot women and girls that touted this 'HCLF' high-energy lifestyle, but the queen of that crew was undoubtedly Leanne Ratcliffe of Freelee the Banana Girl. Pioneer of eating 'raw till 4(pm)' and cycling, Freelee was a thirty something ex-personal trainer who had overcome eating disorders and substance abuse, and had the body of an eighteen year old. She preached that cycling up hills and relying heavily on fruit and starches for sustenance would give you this incredibly toned figure. Thousands of viewers – myself included – were sucked in.
Whilst Freelee got into court battles with Kayla Itsines for defamation, and her loose-cannon boyfriend Harley made countless troll videos on the internet, the dogmatic followers and fans of Freelee and co. got caught up in a cycle of 'What I Eat In A Day' videos, celeb-shaming, and an endless battle about macronutrients. I found that while I had turned to veganism in order to conquer an eating disorder, I developed a whole new obsession with food. When you go 'high-carb' vegan you have a surplus of energy and feel the need to move and workout for extended periods of time. When I started a job that required me to keep still and focus I found it incredibly hard for a few months to break the cycle of overeating starchy food and addictively over exercising to compensate. It wasn't healthy to be consumed with thoughts of food at all times.
A slew of online stars have come to the same conclusion. The massive drop in food related/eating videos from the likes of Stella Rae and Nina and Randa Nelson, and Banana Blondie108's sage advice on healthy eating show that Vegan YouTube as it once was is on the decline. NaturallyStefanie, a Scottish YouTuber famed for her fitness content, recently made a video discussing her departure from following the 'rules' and restrictions of the high-carb Vegan online community, and her subsequent happiness with her results just goes to show that you should eat what makes you happy.
I must stress that veganism can be fun, easy, tasty and healthy. Like Mika Francis, the influencer behind Wild Daze also known for discussing her vegan diet, I've stopped listening to the rules and just eaten what feels right and good for me. Since letting go of my favourite food-based content online, I feel healthier, happier, and more importantly I've learned to eat good food in the right amount.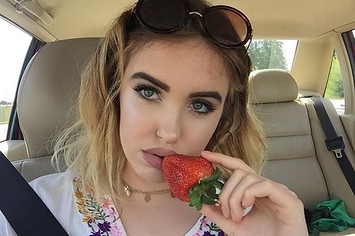 Vegan YouTube may be on its last legs, with entertainers making the move towards creative and lifestyle content for the sake of their channels, but I think that this can only be a good thing. At the end of the day, food is just fuel to live your life and obsessing over it just gets in the way of living right.
Words: India Alicia
Twitter: @indiaaliciat
The UK's first Career & Lifestyle Magazine for women in the Creative and Media industries.