The best feel-good moments in musicals
In the wake of La La Land, those who had previously dismissed bursting into song and dance as the embarrassing preserve of Glee clubs are embracing big, blousey blow-out musical numbers. And we love it! Here is a pick of ten stand-out unexpected musical moments from non-musical films, in no particular order.
1. Heath Ledger Can't Take My Eyes Off You
from 10 Things I Hate About You (1999)
In this alternative teen romance movie, based on the Shakespeare play The Taming of the Shrew, Heath Ledger covering a tender pop rock song by Frankie Valli might not be the most expected show-stopper of a scene, but damn does it work. This scene not only caused thousands of teen girls to fall hopelessly in love with Ledger's chocolate brown eyes, but it also marked the turning point in the story where we actually start to root for the unlikely coupling of the Australian oddball and the precocious, attitude-y Kat Stratford (played to perfection by Julia Stiles). As far as cringeworthy romantic gestures go, it's a winner.
2. 'The Meaning of Life' as illustrated by Rhys Ifans and The Rolling Stones
from The Boat That Rocked (2009)
This comedy about a pirate radio station had a fantastic soundtrack, despite having some extremely problematic scenes and questionable jokes. This is undoubtedly the best scene, and it isn't even in the final cut of the film. It effortlessly stands alone, with Rhys Ifans' world-weary DJ rediscovering the joy and meaning he'd been searching for in a run-down bar, by joining a local man and beautiful woman in dancing to the Stones classic Get Off Of My Cloud. Certain to get you jiving, if Mick Jagger does happen to be the meaning of life, that's a-okay with me.
3. Mia Wallace: Girl, You'll Be A Woman Soon
from Pulp Fiction (1994)
Pulp Fiction is hailed as one of divisive writer/director Quentin Tarantino's greatest films, and certainly its heady mix of pop culture, snappy dialogue, graphic violence and non-linear narrative has inspired so much media since. This scene is undoubtedly one of the most strangely sexy in cinema history, with the killer combination of Urge Overkill's rich, rocky and unashamedly dirty sounding cover of Neil Diamond's Girl, You'll Be A Woman Soon and Uma Thurman's self assuredly sensual dancing. (At least, it's sexy until she snorts heroin, and then it's all downhill from there.) Anyone watching can understand John Travolta's predicament. I love how unrestrained and unchoreographed this scene feels; it really creates an intimacy with and a realness to Mia's character who is otherwise presented as an unobtainable, bored party girl. We all like to imagine that we look like Mia Wallace when we're dancing by ourselves at home…the reality is probably a whole lot less sexy.
4. The '80s Teenagers Bonding In Detention' Dance
from The Breakfast Club (1985)
I firmly maintain that this is THE breaking the ice with housemates film, and this is the scene we all would secretly love to recreate at school/college/uni/the office. Karla DeVito's 'We Are Not Alone' is not only thematically appropriate, but is also so incredibly 80s. My dancing technique is basically the same as that of Allison (the 'basketcase'), especially the falling on the floor and jiggling randomly. Solid A+ dance moves.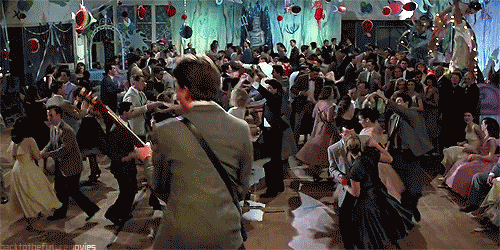 5. Marty McFly Plays Johnny Be Goode 
from Back to the Future (1985)
I love this film so much, and this scene is pure joy. I definitely have a little crush on Marty McFly (Michael J Fox) here; he can sing, play the guitar and he's super cute. My prom was nowhere near as cool as this, and definitely lacked a time traveller playing Chuck Berry in order to save his existence as a centre-piece.
6. Don't Stop Me Now, I'm Killing Zombies
from Shaun of the Dead (2004)
Never has a climactic stand off against zombie hordes had such a good soundtrack. This scene could have been painfully student film-y, using an iconic Queen song during an action scene in a genre flick, but thanks to fantastic direction it not only works, it kicks zombie butt. It peps you up with so much energy that you feel like you're part of the action yourself. I feel allllllive…
7. Twist and Shout At The Parade
from Ferris Bueller's Day Off (1986)
This cult 80s hit glamorised bunking off school, being an awful friend, wearing terrible waistcoats and general douchey behaviour. We totally forget that however, when we see the fun that Ferris (Matthew Broderick) has when he hijacks a float in a massive parade and gets everyone singing and dancing to the Beatles classic Twist and Shout. Definitely more appealing than double maths.
8. The Banana Boat Song
from Beetlejuice (1988)
Those younger than a certain age with associate the song Day-O with Kellogg's breakfast cereal thanks to an advert for Fruit and Fibre they did. Those older than a certain age will recognise it as a Jamaican folk song most famously performed by Harry Belafonte. For everyone in between, this song will be inextricably linked with possession by discontent spirits over dinner.
9. Slumdog Millionaire Mass Dance Scene
from Slumdog Millionaire (2008)
This gritty film from Danny Boyle is predominantly set in the slums of Mumbai, and is pretty heavy at times; not the most obvious candidate for having a massive musical number at the end. However, underscoring the triumphant ending in homage to true Bollywood style, the award winning song Jai Ho is played in the final scene, with star Dev Patel leading an entire train station of dancers. It is jubilant and a vibrant and energetic finale, and I honestly wish more films ended with a collective dance scene. You may remember this song from the clubs at the time, but be sure to check out where it came from.
10. Jack Rabbit Slims Twist Contest
from Pulp Fiction (1994)
Okay, so maybe two from the same film is cheating a little, but this is such a classic scene and a complete non-sequitur compared to the rest of Tarantino's compendium of entwined crime stories. Uma Thurman and John Travolta are so serious, despite the kooky, dated and frankly awkward dancing, and yet somehow they make it really work. Grease Lightning this ain't, but it is hypnotic. It goes to show you never can tell!
Words by Heidi Teague
Tweet @TeagueHeidi
The UK's first Career & Lifestyle Magazine for women in the Creative and Media industries.