The celebs living our wanderlust goals
I'm a true beach babe at heart, and as much as I love London (and I really do), my mind is always elsewhere – dreaming of a white sandy beach and clear blue sea where you run around with a permanent tan and can eat all the fruit you want (because it's always in season!).
So, when that well known app (you know… Instagram), lets you see into the 'picture-perfect' lives of the wanderlust celebs, it's no doubt that you get left with a severe case of 'FOMO' as you look out your bedroom window and realise it's most definitely not that same untouched beach view that Bella Hadid has.
With 'Spring Break' nearly upon us, and the weather in London being not too fabulous, my summer weather wishing increases and my jealousy over any beach photo becomes intense. So, obviously, being the girl I am I decided to write an entire piece all about celebs on holiday to make others join my wallowing in despair.
We can all be sad and feel that wanderlust together, come on it'll be fun!
1. Emily Ratajkowski
@EmRata is a frequent culprit in leaving me vacation envious, with her bikini pictures and island hopping from Greece to Cancun, Turks and Caicos to Cuba she really just does know how to do a holiday right! It's no secret why she can keep that gorgeous golden tan up for so long when the majority of her Insta photos are of beaches that look like heaven on earth (get me to Turks and Caicos ASAP please!).
2. Bella Hadid
The younger Hadid sister really knows how to get your vacation vibes going; whether she's in the Bahama's or Italy she knows how to pose in itty bitty bikinis in front of crazy blue seas that are just calling for you to swim in! Oh, and you know, totally casj, she's taken her 'girls' to Jamaica for a little sunshine break – oh Bella can I be your best friend?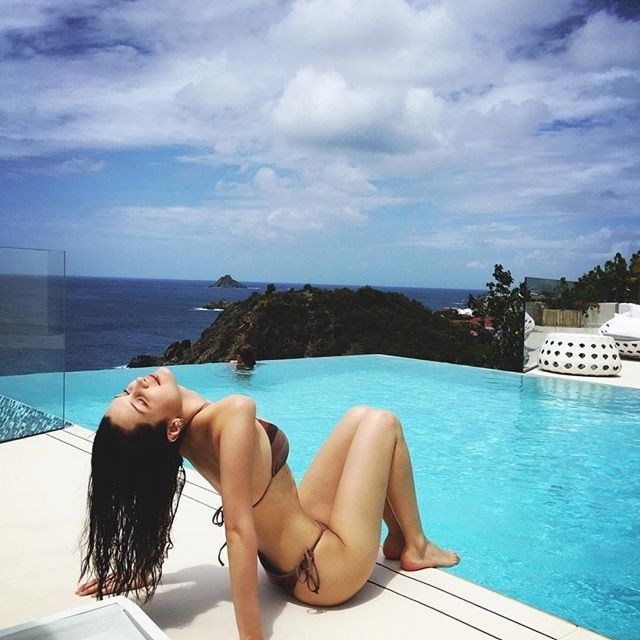 3. Kylie Jenner
Who vacays better than King Kylie herself? No one is the correct answer. In fact, I'm pretty sure Kylie invented going on holiday (no sarcasm detected at all). But for-real, does Kylie know how to rock a swimsuit or what – I'm currently eyeing that Body Glove one on ASOS! From beaching it up in Turks and Caicos for her 19th birthday, to spending weekends in Miami, Kylie is another culprit who never fails to leave me with tears running down my pale and not so 'sun kissed' face.
4. Shay Mitchell
Last of all, this PLL star is a pro at owning that golden goddess glow that you seem to get on every holiday. From relaxing in Tulum (goals), to roaming in Italy with her best friends (I repeat… goals), she just gets it right every time; and by that I mean she manages to make me double tap every damn time.
Yep, exactly like I thought, writing this has left me with a severe case of "Get me on holiday now" and with a touch of "let me book a spray tan to get rid of this pasty af skin".
Whose Instagram never fails to leave you with wanderlust?
Words by: Maija Lily
Twitter: @GreenteavogueMe
The UK's first Career & Lifestyle Magazine for women in the Creative and Media industries.